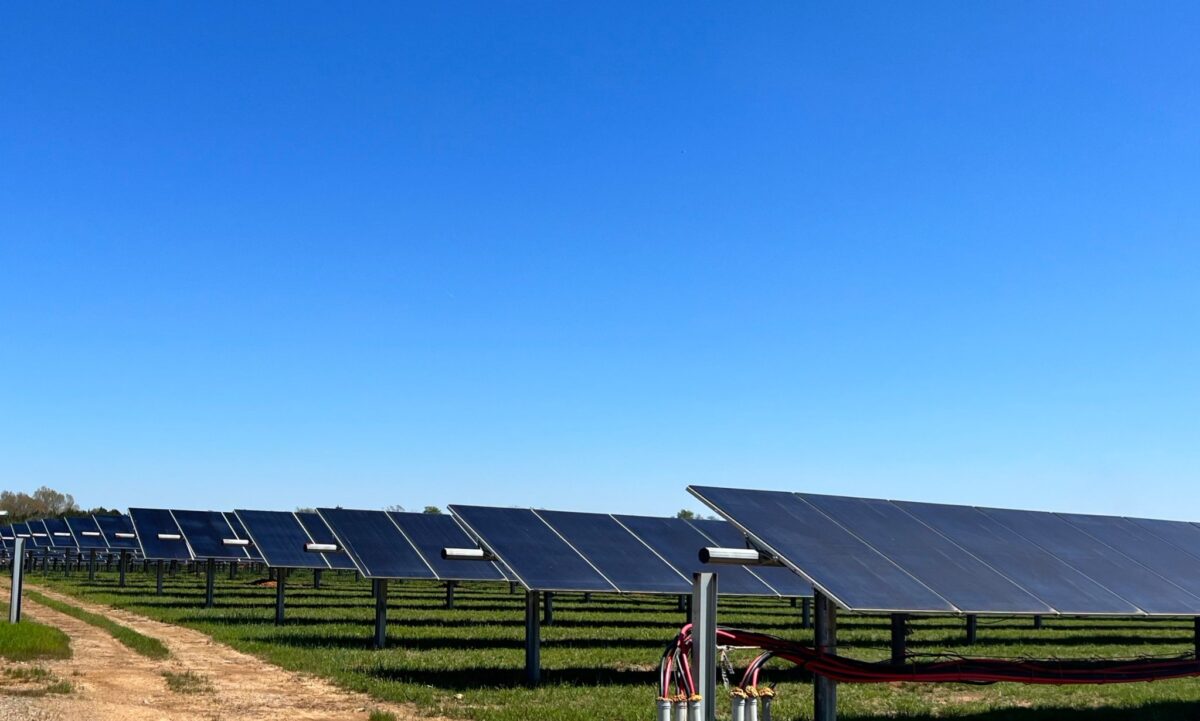 NASHVILLE, Tenn.—-Silicon Ranch Corporation, one of the nation's largest independent power producers and a community-focused renewable energy company, joined Vanderbilt University, Nashville Electric Service (NES), and Tennessee Valley Authority (TVA) today to "flip the switch" on the Vanderbilt I Solar Farm, a 35-megawatt (MWAC) solar facility located in Bedford County, Tennessee.
Nashville-based Silicon Ranch developed and funded the project and hired more than 250 craft workers to build the solar facility. The company will also serve as the long-term owner and operator, a disciplined approach Silicon Ranch takes with every project it develops. As both the landowner and operator, Silicon Ranch will remain invested in and committed to the continued success and economic viability of the surrounding community. The company invested more than $50 million to install the Vanderbilt I Solar Farm, and over the years to come, the project will generate millions of dollars in new tax revenue for Bedford County to support local infrastructure and schools, among other community-identified priorities.
In 2022, Silicon Ranch also donated 30 acres of its project site to the city of Shelbyville and Bedford County to support the recruitment of Duksan Eletera America, Inc. Later that year, Governor Bill Lee joined state and local officials to welcome Duksan Electera, who is investing $95 million to locate its first manufacturing facility in North America, which will create more than 100 new jobs.
"The Vanderbilt I Solar Farm demonstrates what is possible when we work together with a shared vision for the region, and Silicon Ranch is grateful to Vanderbilt for its leadership and to TVA and NES for their strong support of this meaningful renewable energy investment in Bedford County," said Matt Kisber, Co-Founder and Chairman of Silicon Ranch. "I am a proud alumnus of Vanderbilt, as are many of our colleagues, and we are thrilled to dedicate this meaningful project today. We also wish to thank the leadership of Bedford County and the Shelbyville-Bedford Partnership for their collaboration and for welcoming us into this community."
The solar facility represents a significant step by Vanderbilt University toward the ambitious goal it announced in 2019 to power its campus entirely through renewable energy and become carbon neutral by 2050. The renewable generation from the Vanderbilt I Solar Farm will offset approximately 70% of Vanderbilt University's annual Scope 2 greenhouse gas emissions, or the equivalent of enough power to help serve more than 6,000 homes for one year.
"The Vanderbilt I Solar Farm not only represents a major step toward our own goals at Vanderbilt, but also provides a model of collaborative, forward-thinking solutions that we hope other higher educational institutions will adopt and replicate across this country," said Daniel Diermeier, Chancellor of Vanderbilt University. "We look forward to the educational and research opportunities this project and our pursuit of carbon neutrality will yield for our faculty and students at Vanderbilt. We thank Silicon Ranch, NES, and TVA for supporting us on this bold journey."
"TVA is proud to dedicate the first project ever developed under our Green Invest program, and we are thrilled to do so with NES and Silicon Ranch," said Justin Maierhofer, Regional Vice President at TVA. "Together with 153 local power company partners, TVA is building the energy system of the future, and Green Invest positions us to bring together customers and renewable energy partners who are investing in communities across the Tennessee Valley."
"As one of the eleven largest utilities in the nation, NES is committed to listening to the needs of our customers, and the Vanderbilt I Solar Farm illustrates our ability to innovate in response to help our customers achieve their desired outcomes," said Teresa Broyles-Aplin, President and CEO of NES. "NES is proud to collaborate with Vanderbilt, TVA, and Nashville's own Silicon Ranch to reduce carbon emissions in our region."
"Bedford County wishes to thank Vanderbilt, Silicon Ranch, NES, and TVA for making this substantial investment in our community possible," said Chad Graham, Mayor of Bedford County. "We are pleased to welcome Silicon Ranch, who not only built this world-class facility, but also collaborated with the Shelbyville-Bedford Partnership to support our successful efforts to bring Duksan Electera here as well."
About Silicon Ranch
Founded in 2011, Silicon Ranch is a fully integrated provider of customized renewable energy, carbon, and battery storage solutions for a diverse set of partners across North America. The company is one of the largest independent power producers in the country, with a portfolio that includes more than five gigawatts of solar and battery storage systems that are contracted, under construction, or operating across the U.S. and Canada. Silicon Ranch owns and operates every project in its portfolio and has maintained an unblemished track record of project execution, having successfully commissioned every project it has contracted in its history. Silicon Ranch has the largest utility scale agrivoltaics portfolio in the country under Regenerative Energy® its nationally recognized holistic approach to project design, construction, and land management. This model incorporates regenerative ranching and other regenerative land management practices to restore livelihoods and soil health, biodiversity, and water quality. In 2021, Silicon Ranch acquired Clearloop, which helps businesses of all sizes reclaim their carbon footprint with a direct investment in building new solar projects while helping to bring renewable energy and economic development to distressed communities. To learn more, visit siliconranch.com and clearloop.us. Follow Silicon Ranch on Facebook, Instagram, Twitter, and LinkedIn.
About Tennessee Valley Authority (TVA)
The Tennessee Valley Authority is a corporate agency of the United States that provides electricity for business customers and local power companies serving nearly 10 million people in parts of seven southeastern states. TVA receives no taxpayer funding, deriving virtually all of its revenues from sales of electricity. In addition to operating and investing its revenues in its electric system, TVA provides flood control, navigation and land management for the Tennessee River system, and assists local power companies and state and local governments with economic development and job creation.
About Vanderbilt University
Vanderbilt University is a globally renowned research university located in Nashville, Tennessee. Ranked No. 13 among national universities, Vanderbilt offers an immersive living-learning undergraduate experience, with programs in the liberal arts and sciences, engineering, music, education and human development. The university also is home to nationally and internationally recognized graduate schools of law, education, business, medicine, nursing and divinity, and offers robust graduate-degree programs across a range of academic disciplines. Vanderbilt is committed to inclusive excellence, drawing the world's brightest students, faculty and distinguished visitors from across all cultural and socioeconomic backgrounds and provides a collaborative atmosphere of discovery that drives positive change in the world. Learn more at www.vanderbilt.edu.
About NES
Nashville Electric Service (NES) is the 11th largest public electric utility in the nation, distributing energy to more than 430,000 customers in Middle Tennessee. For more information, visit nespower.com or nespowernews.com.
Categories:
Tags: