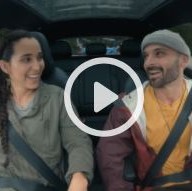 The Tennessee Valley Authority (TVA) is taking a tour of its service areas to a provide customers with a virtual, educational experience on electric vehicles.
The TVA EnergyRight series, "In Charge: Life with an Electric Vehicle," is a five-episode video series that busts myths and explores the benefits of electric transportation. The new series is hosted by Raven Hernandez, CEO of Earth Rides, a rideshare company based out of Nashville. Hernandez covers the Valley's terrain in the latest EVs, like the all-new Volkswagen ID.4, the Chevy Bolt, the Tesla Model Y, the Porsche Taycan and the Nissan Leaf.
While she travels, she'll be visiting different cities and picking up special guests along the way, like Trevor Bayne, the youngest winner of the Daytona 500; Country Kelleigh, singer/songwriter and host of Apple Music's Today's Bannon; Corey Martinez, BMX legend and X Games gold medalist and more.
Guests on the road-tripping series ask questions, learn a few surprising facts, and find out what it's really like to drive and ride in fully electric vehicles. As they zip around the region, they also enjoy the sights, grab food at local hot spots, visit famous landmarks and cultural attractions, and participate in fun, EV-related challenges.
Watch episodes 1 and 2 below.
To keep up with rest of the adventure, click here.
Categories:
Tags: