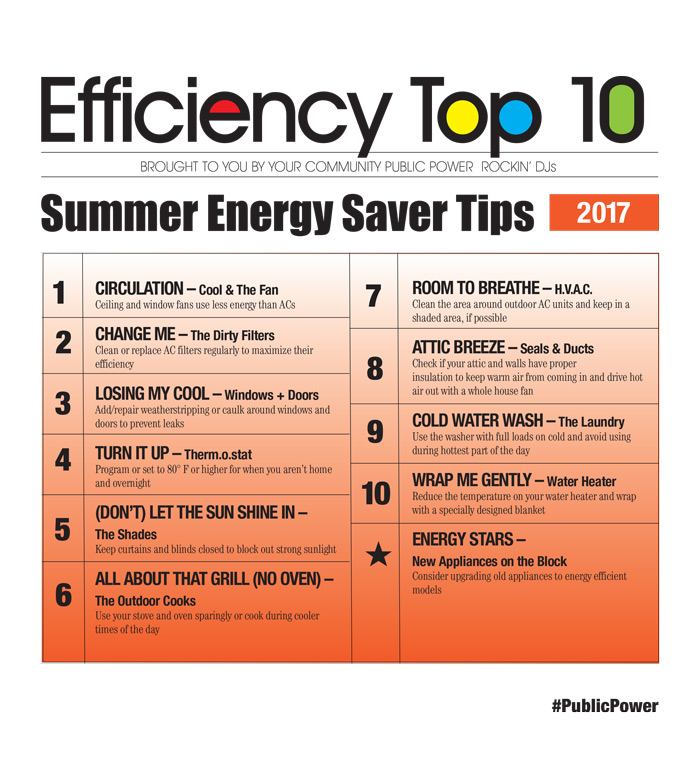 These simple steps will have you singing a new tune as you increase the comfort level of your home and keep your bills down all summer long.
Check out the Efficiency Top 10 for this year's most popular energy-saving advice.
Temperature Settings – Program or set your thermostat to 78° or higher for when you aren't home and overnight. Reduce your water heater to the recommended setting of 120°.
Fans – Use fans to circulate air within a room to make you feel cooler. This will allow you to raise your thermostat setting four degrees without noticing the difference.
Filters – Clean or replace A/C filters regularly to maximize the efficiency of your HVAC unit.
Air Leaks – Check for weather-stripping or caulk around windows and doors to ensure you aren't losing that cool inside air.
Windows – Close blinds and drapes on windows that get a lot of direct sunlight during the day to block out the sun's heat.
Cooking – Avoid using the oven or stove during the hottest part of the day. Consider grilling or using the microwave instead to prevent extra heat in your home.
Insulation – Check if your attic and walls have proper insulation to keep warm air from coming in.
Cleaning – Save chores that create heat and humidity, such as running the dishwasher, for early morning or after dark when it's cooler. Consider skipping the dryer because summer is a great time to line dry clothes.
Air Conditioning Unit – Keep the outside part of your air conditioning unit clean and free of debris and grass clippings.
Trees – Plant or maintain leafy shade trees on the west and east sides of your home to create a natural sun shade.
Looking for more tips? Complete a do-it-yourself audit online and receive a free energy-saving kit in the mail.
Categories:
Tags: