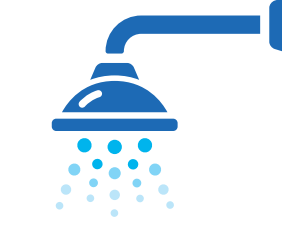 Reducing energy consumption saves you money and helps the environment. Here are some things you can do to improve the energy-efficiency of your home.
DUST ELECTRONICS
Thoroughly dust computers, CD/DVD players, TVs and other appliances, and unplug them when not in use.
CHANGE YOUR AIR CONDITIONING FILTER
Clean or replace your filter regularly to prevent your air conditioning system from working harder.
INSPECT YOUR AIR CONDITIONER'S OUTDOOR UNIT
Trim back any weeds, vines or other plants growing around the unit.
INSTALL LOW-FLOW SHOWERHEADS AND FAUCETS
Use less hot water by installing low- flow showerheads and faucets. You'll save on the energy used to heat water and won't notice a big difference in water pressure.
CLEAN REFRIGERATOR COILS
Pull out your refrigerator and dust the coils located on the back. Clean coils help the compressor cool faster and run less frequently.
SET YOUR WATER HEATER AT 120 DEGREES
Overheating your water can be wasteful and unsafe. Lower the temperature to the recommended 120 degrees.
Categories:
Tags: