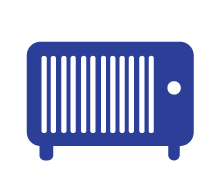 Nashville, along with the majority of the country, is facing freezing temps this week. If you're planning to use a portable heater for added warmth this winter, make sure to stay safe by following six important guidelines.
Watch this short video to learn more or check out the quick tips below.
Turn portable heaters off when you leave the room or go to bed.
Keep heaters at least three feet away from flammable material such as bedding, furniture or drapes.
Plug portable heaters directly into wall outlets, not extension cords.
Check for damaged cords or loose outlet connections that can spark a fire.
Use heaters with an automatic shut-off switch and place them on a stable, level surface to prevent
tipping over.
Never run cords under carpet or rugs to avoid overheating.
According to the Nashville Fire Department, portable heaters account for more than 50,000 house fires and 400 deaths nationwide each year. Give space heaters space and protect your home this winter. For more electrical safety tips, visit nespower.com.
Categories:
Tags: