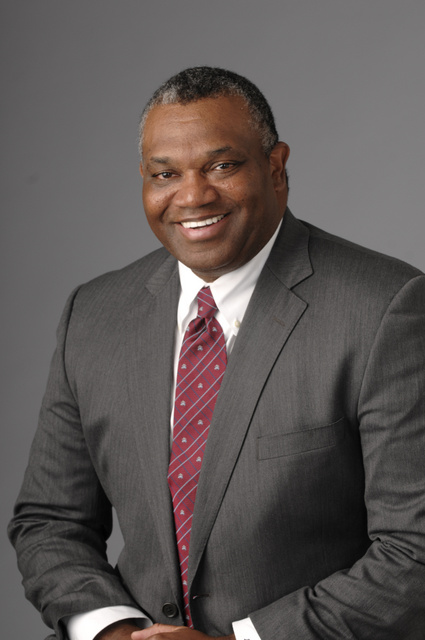 By Meg Garner  – Reporter, Nashville Business Journal
Decosta Jenkins doesn't want you to know he exists, unless your power is out. As the longtime CEO of Nashville Electric Service, Jenkins plays a vital role in accommodating Nashville's unprecedented boom, primarily because it's his responsibility to ensure the city has the energy it needs to keep moving. When he's not busy keeping your lights on, Jenkins is either swinging his clubs on the golf course, taking his son to a Titans game or checking out Nashville's newest restaurants.
How'd you get into this industry? I'm a CPA, and I worked for Deloitte for a number of years. NES was a client, so I came over in 1991 as the chief financial officer. And in 2004, I was promoted to president.
What role does NES play in economic development? If an entity comes to Nashville, between the chamber and the Tennessee Valley Authority, I'll get a call because I have to understand its impact on the system. We'll work with them and the TVA's programs, which assist in incentives.
What part of Nashville did you grow up in? I'm the unicorn. I grew up in ZIP code 37208. It's the one the Brookings Institute identified as the most incarcerated ZIP code in the nation. Slim & Husky's is right down the street from where I grew up.
What aspect of the city's growth has surprised you the most? I think all of it. … It's hard for me to accept that on the street where I grew up, there are houses that will sell for $300,000. When I was growing up, you could have bought that whole block and had money left over for $300,000. The street I lived on was called Arthur Avenue, and it runs from Monroe to Buchanan. It's only like four or five blocks, and you could have bought everything on that street, even with inflation.
Your offices are in the middle of the city's growth spurt. Do you see NES moving its headquarters? Because of where we're located, people come to visit me. We give them everything they need to know. If someone wants to buy [NES' headquarters], then the board would have to have the appetite to sell it. I can't just accept $80 million to move because I've got to put it out for bid, so your $80 million may not be enough.
Where can people find you on a Friday? Most of the time, [my office]. I do have a hobby: I'm a golfer. When I'm not playing golf, I'm working out.
What's the best golf course in Nashville? Probably Belle Meade. Now the best public course is the Hermitage course. The Hermitage looks like no other course in Nashville. It looks like one from North Carolina, and they have black-faced sheep out there.
What's your best tip for aspiring golfers to get better? Start playing early. Golf is a game of repetition.
You have two kids? I have a 34-year-old son and a 31-year-old daughter. My son is an auditor with Tractor Supply, and my daughter is at Georgetown University in a pre-med program.
Are you glad to have your son close? He's 34, but he's still my son. He's kind enough to realize I'm getting old now, and he's kind enough to go to the Titans games with me on Sundays. He'll also meet us for brunch.
Are you a big Titans fan? I've been a [season-ticket] holder since they've been here.
What's your favorite new restaurant in Nashville? I like Saltine's for a fun restaurant. Chauhan's [Ale & Masala House] is good. … I love Cajun food, and Nashville has always needed good Cajun food. Saltine's has good gumbo and oysters Rockefeller.
Did you ever go to Chappy's on Church? I did. I liked Chappy's. I was one of the few people who did, until I saw [Gordon Ramsay's "Kitchen Nightmares]; then I never went back.
What did you like there? Chappy's featured a Titanic dinner. It's all seven courses that were served the night the Titanic [sunk]. We did it twice, and it was pretty awesome. Chappy would come out with each course and explain what it represented.
What's one thing people likely don't know about you that they should? I'm a public figure, so you can find out just about anything about me. One thing people wouldn't know, I guess, is that I have a second-degree black belt in karate.
Do you still do practice karate? No, I've got two titanium knees and a titanium neck, so I don't even try.
Title: President and CEO
Company: Nashville Electric Service
Address: 1214 Church St., Nashville 37246
Web: nespower.com
Employees: Approximately 1,000
Age: 63
Hometown: Nashville
Education: Penn Foster, associate's degree; University of Tennessee at Nashville, B.S.
Categories:
Tags: