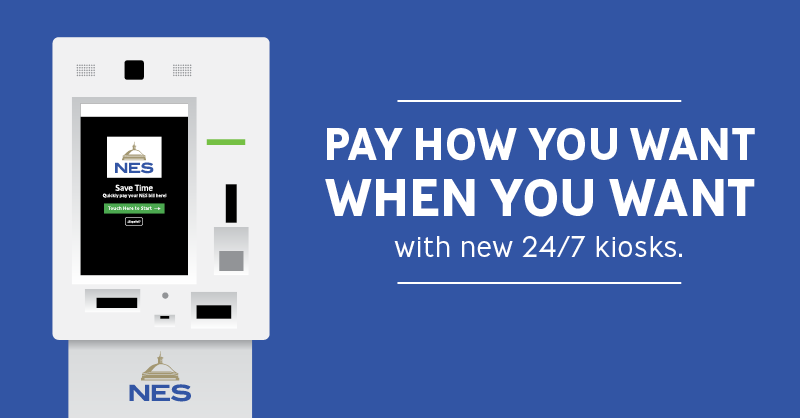 Paying your Nashville Electric Service (NES) energy bill just got easier and even more efficient. NES has launched the addition of three new outdoor kiosks, increasing more payment options for our customers.
Convenience is key, and sometimes NES customers find themselves having a hard time paying their bill online or in person at NES' main office. Instead of waiting in the teller's line, over the phone, or at the computer screen, customers can use the kiosks themselves at anyone of our service locations:
NES' Main Office (1214 Church St #100, Nashville, TN 37246) 
Donelson/Hermitage Enbright Credit Union (2340 Jackson Downs Blvd, Nashville, TN 37214)  
Hendersonville Credit Union (270 Indian Lake Blvd, Hendersonville, TN 37075) 
Customers can pay with cash, card, or e-check using any of the kiosks! Here are a few things to keep in mind when using them:
Follow the user-friendly prompts on the monitor when paying your bill
The service provider charges a $2.25 convenience fee for e-check and card payments, but not cash payments
Any payments made after 5 p.m. will post the following business day.
The new three outdoor kiosks are completely self-service and are open 24/7 for transactions, but there is also an indoor kiosk inside NES' main office that is available during normal business hours. The credit unions and main office are still available at all full-service locations with tellers available to assist customers.
For more ways to pay, click here.
Categories:
Tags: