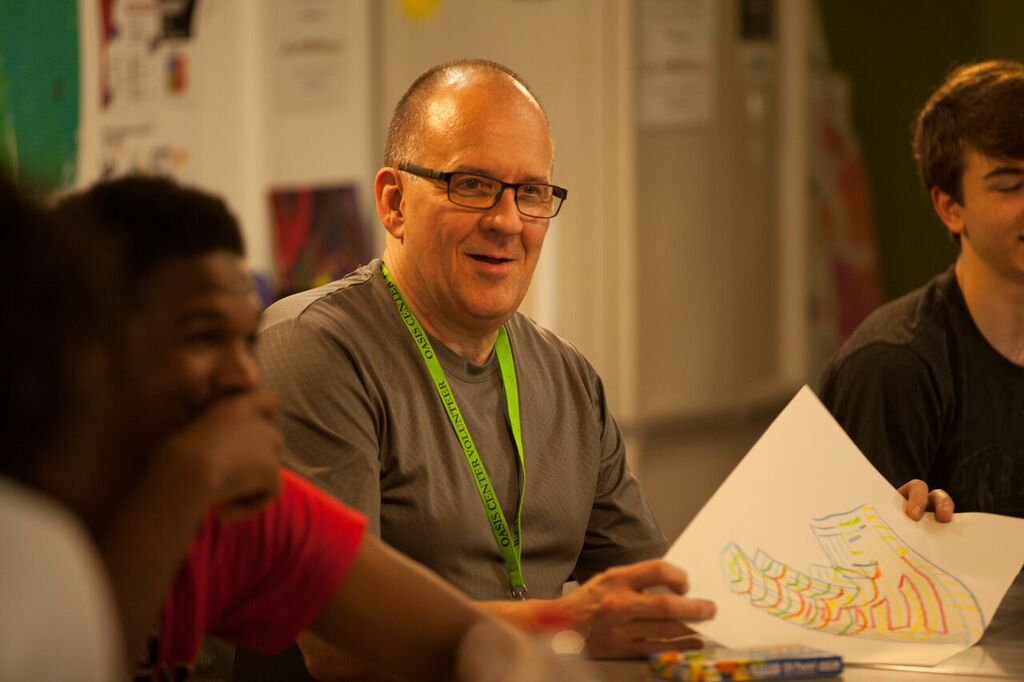 Fifty-three-year-old Derek Gibson, a five-year employee of Nashville Electric Service (NES), spends his days doing telecommunications work for the utility but his passion goes far beyond a keyboard.
He is dedicated to giving back to the community and his philanthropy isn't going unnoticed. Gibson is a nominee for the 2016 Mary Catherine Strobel Volunteer Awards, which honor Middle Tennesseans who offer their time and talents to improve the community.
For Gibson, volunteering is its own reward.
"It's been transformative. I realized very quickly that this was something that had been missing in my life," said Gibson. "I plan on volunteering as long as I'm physically able, especially with youth who have challenges."
Gibson's volunteer efforts began in 2013 when an old friend from college started an underground art program at Oasis Nashville, one of the nation's leading youth-focused organizations. Oasis is designed to offer safety and support to Nashville's most vulnerable and disconnected youth.
Gibson, who holds a bachelor's degree in fine arts, found his calling by teaching art to at-risk youth. He also serves as a mentor for Oasis' transition program to help young people develop the job and life skills necessary to succeed.
"A lot of the kids I work with are hardworking and have the same aspirations as others, but due to circumstances beyond their control, they need that one break. Just the fact that someone is showing interest can make a difference," said Gibson.
Gibson also serves on the executive board for Launch Pad Nashville. The non-profit provides street-free sleeping for youth, ages 18-24 years old. He'll transition into the executive director position for Launch Pad in April 2016.
"I volunteer to make a difference. I don't do it for awards, but it's nice to see that someone thought enough of me to be nominated."
For more information on Oasis Nashville, visit oasiscenter.org. You can learn more about Launch Pad Nashville at nashvillelaunchpad.com.
Categories:
Tags: