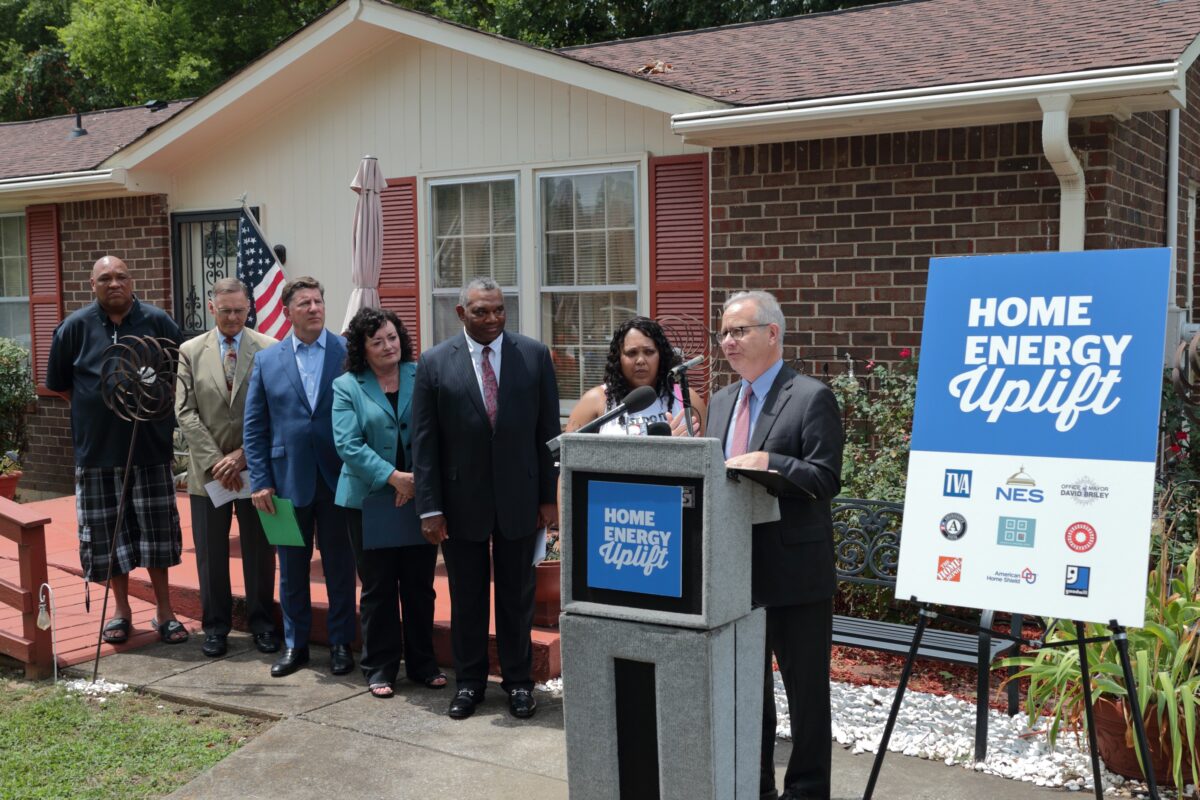 Mayor David Briley, in partnership with Nashville Electric Service (NES) and the Tennessee Valley Authority (TVA), today announced the completion of the 200th home to receive extensive weatherization upgrades through the NES Home Energy Uplift program.
The 200th home is owned by Frank Offutt who lives on Rowan Drive in North Nashville. Qualified limited-income homeowners have received deep energy retrofits and tools to increase energy efficiency to lower utility costs and improve their comfort and quality of life. Each improvement is valued at up to $8,000 per home and saves the homeowner about $500 a year on their power bills. To date, the program has saved "uplifted" homeowners nearly $100,000.
"Preserving affordable housing is vital to keeping the character of our neighborhoods intact as we continue to grow as a city," said Mayor Briley. "By lowering energy bills, the HEU program allows residents to stay in their homes while improving their quality of life. I want to thank my partners in this initiative who have worked hard to better the lives of so many in our community."
To commemorate the milestone of the 200th weatherized home, community leaders and neighbors held a beautification block party in North Nashville where five homes have recently been "uplifted." Volunteers and neighbors spent the day mulching, landscaping and cleaning up yards so the homes are not only improved on the inside, but on the outside, as well.
"We are proud to do our part at NES to help limited-income homeowners lower their power bills and become more energy efficient so they can stay in their homes longer," said Decosta Jenkins, NES president and CEO. "With the Mayor's office, TVA and other partners, we are working together to provide sustainable solutions to help those who want the option to 'age in place' in our growing city."
Current funding for NES Home Energy Uplift comes from the Metropolitan Development and Housing Agency (MDHA) through a grant of $500,000 from the Federal Home Loan Bank (FHLB) of Cincinnati. TVA matched the funding with $550,000.
"We're pleased to support programs like Home Energy Uplift across the Valley while helping people feel safe and comfortable in their homes," adds TVA President and Chief Executive Officer Jeff Lyash. "TVA is proud to partner with NES to reduce our neighbors' energy bills and to lift up the community as a whole."
TVA is currently conducting a study with Knoxville-based firm Three3 (ThreeCubed) to investigate Home Energy Uplift's impact on homeowners, beyond just energy savings. The study will evaluate whether Home Energy Uplift upgrades improve indoor air quality, reducing the impacts of chronic medical conditions, and how household financial savings impact life outcomes. This research is one of the first comprehensive studies in the U.S. to evaluate how weatherization improves health in hot and humid climates by measuring pre- and post-weatherization results of participants.
"Nashville is growing and as we build new affordable housing, we must also invest in preserving our current affordable housing stock," said MDHA Executive Director Jim Harbison. "The NES Home Energy Uplift Program allows us to make much needed repairs so that Nashvillians in need may remain in their homes and in their communities. We are proud to support this wonderful initiative."
NES Home Energy Uplift improvements may include weatherization, air sealing, high-efficiency heat pumps, high-efficiency air conditioners, duct replacement/repairs, ENERGY STAR windows, building envelope insulation, high-efficiency lighting, crawl space and attic insulation, heat pump water heaters, ENERGY STAR appliances, and/or whole-house ventilation. Qualified Davidson County homeowners may be eligible for this program if they meet income restrictions and their primary heating and cooling source is electric. Interested Davidson County homeowners can apply online at www.nesuplift.com.
NES HOME ENERGY UPLIFT STATS TO DATE
Homes Completed: 200
Average Investment Per Home: $8,331
Total savings for all 200 homes retrofitted: 970,813.20 kWh in energy or $97,081.32 in utility bill savings for limited-income households
ZIP codes served: 37013, 37072, 37115, 37138, 37189, 37203, 37204, 37205, 37206, 37207, 37208, 37209, 37210, 37211, 37216, 37218, 37221
Supporters of NES Home Energy Uplift also include AmeriCorps, CLEAResult, American Home Shield, Goodwill Industries of Middle Tennessee, and Home Depot.
Categories:
Tags: