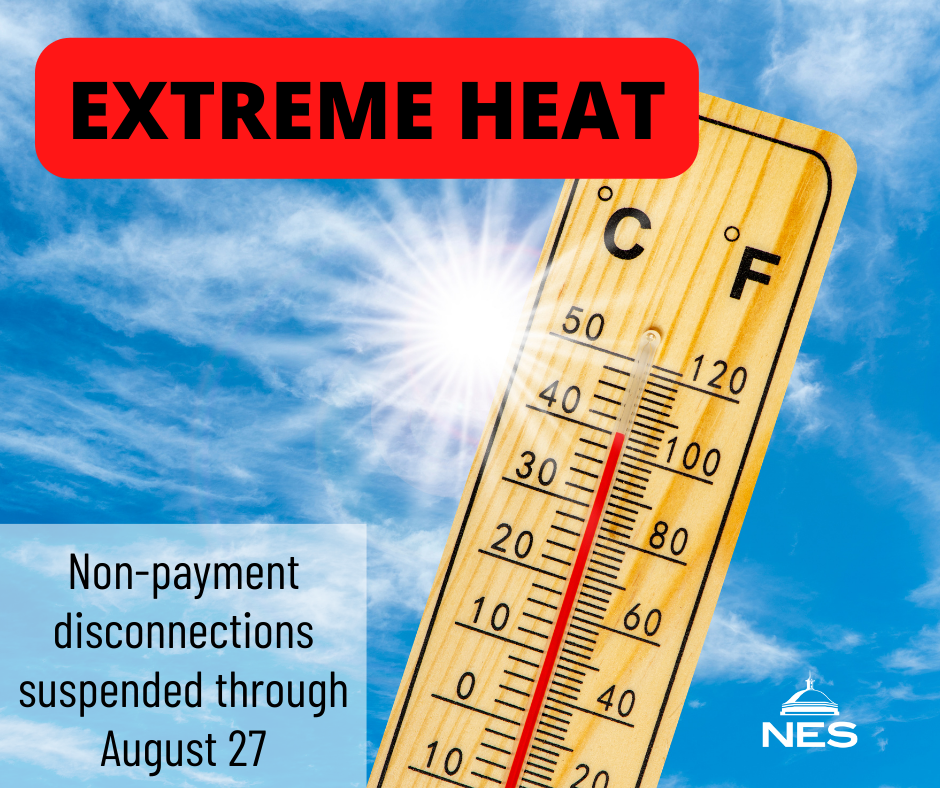 Middle Tennesseans are bracing for a dangerously hot week as an Excessive Heat Advisory has been issued for the region. Experts say it will feel like over 100 degrees every day this week, prompting everyone to take precautions to stay safe and healthy during the heat wave.
In light of the predicted extreme heat, Nashville Electric Service (NES) wants customers to know it is suspending disconnections for nonpayment for the entire week. It will resume disconnections Monday, Aug. 28.
NES understands that many customers want to be comfortable in their homes during a heat wave while also trying to conserve energy to lower their power bill. HVAC units are the No. 1 driver of electricity usage and high bills. If customers can move their thermostat up just a few degrees, they will use less energy.
Here are a few tips to conserve energy during the summer months:
Bump your thermostat up a few degrees or even set it between 76 – 78 degrees. Use ceiling fans to keep air flowing when you're at home and to reduce the feels-like temperature when you're in a room.
– Remember to turn fans off when you leave the room. Fans cool people, not rooms.

Use the microwave instead of the oven for cooking your meals.
Turn off lights when you leave the room and unplug unused electronics.
Keep garage doors closed as much as possible. This will help slow hot air from trickling into your home.
Keep curtains and blinds closed on the sunny side of your home to block out some of the heat, while opening blinds on the shady side to provide natural lighting without raising the temperature.

Customers struggling to pay their NES bill should call Customer Relations at 615-736-6900 for information on available assistance. For in-person service, customers may visit the NES lobby at 1214 Church Street, Monday – Friday from 8 a.m.-6 p.m. Customers can also pay their bill at Enbright Credit Union branch offices in Donelson at 2340 Jackson Downs Blvd., or in Hendersonville at 270 Indian Lake Blvd. Monday – Thursday from 7:30 a.m.-4:30 p.m. and Friday from 7 a.m.-5 p.m.
Categories:
Tags: