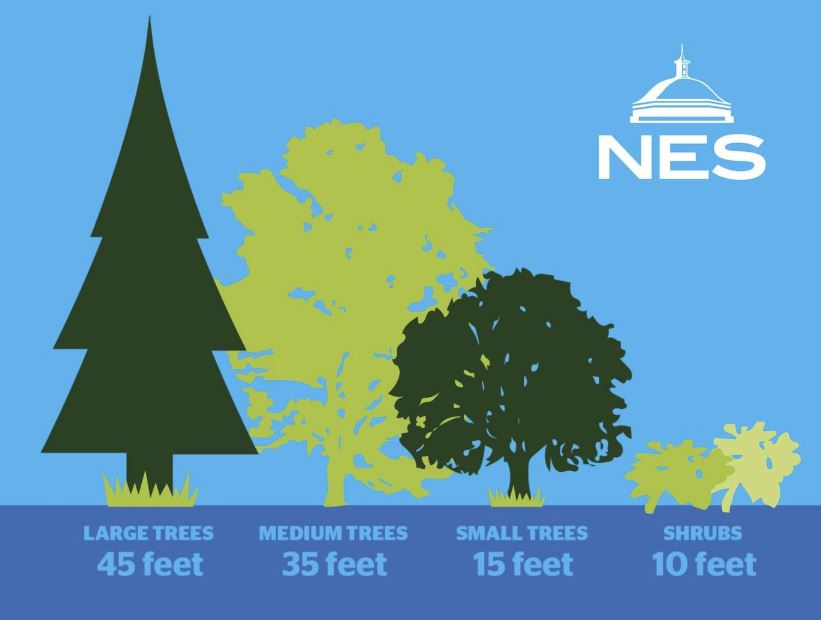 Nashville Electric Service's (NES') mission is to provide safe and reliable power to all its customers, and properly trimmed trees are an important part of making that happen. Since NES launched its tree trimming program, tree-related outages have dropped significantly.
Tree trimming might sound concerning to some customers, but NES' goal is to keep trees healthy while making sure they do not come in contact or interfere with electrical equipment. The degree of tree trimming that NES performs depends on several factors, such as tree species, voltage of surrounding power lines, and the proximity of tree branches to power lines.
In the event that you encounter tree trimming, here are some of the guidelines NES follows to help you better understand what's happening:
NES follows a lateral pruning method. This method keeps the overall structure of the tree strong and more resistant to high winds and heavy ice. It also directs growth away from power lines.
Sometimes, NES will have to conduct "V" pruning. "V" pruning occurs when utility wires run through a tree and a v-cut is made to allow branches on both sides of the wire to grow naturally.
NES also conducts side pruning, which removes interfering side branches from trees that are adjacent to power lines.
Even though NES prunes trees, it does not "top" or "round" trees because the practice is discouraged by the National Arbor Foundation.
A six-foot minimum tree clearance is required in front of transformer doors so that crews can access equipment and make repairs.
During normal or routine trimming projects, NES contractors will remove and/or chip the tree limbs and debris from the customer's property. However, NES does not remove tree debris caused by a storm or emergency. Crews may need to cut broken and uprooted trees to make repairs to NES lines, but it is the responsibility of the property owner to remove the tree debris.
To learn more, call 615-695-7400 or click here.
Categories:
Tags: