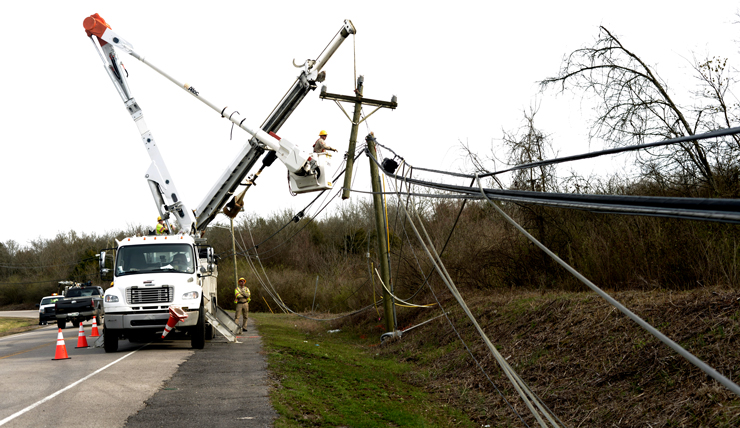 In the early morning of March 3, 2020, the Nashville area was struck by a series of tornadoes that will leave their mark on Nashville for years to come. With power now restored to the homes and businesses not damaged too much to receive power, we reflect on the restoration process, those who put their lives on the line and worked around the clock to restore power to our city in less than two weeks.
Let's break down the damage:
At the peak of the outage, 50,124 customers were without power; during the 10-day response a total of 61,974 NES customers were without power.
5 NES substations were without power / 2 customer owned substations without power
15 to 20 – 161 & 69 kV transmission lines were out of service
Over 20 – 13.8 & 23.9 kV distribution circuits were out
There were over 800 damaged light poles
On Tuesday morning, NES contacted our line contract providers from across the Southeast to ask for assistance.  Davis Elliot, MasTec and TVA all provided assistance during the restoration. With the additional resources, NES had nearly 230 bucket trucks working for 14 hours during the day with approximately 15 to 20 trucks working for 14 hours overnight. This continued for nine days.
Throughout the restoration process, NES worked closely with its customers to address specific needs of the community. NES restored power to two substations and 17,000 customers within 24 hours of the tornado touch downs.  Within 48 hours of the tornadoes, power was restored to over 23,000 customers (45% of effected customers).  Within 72 hours after the tornadoes, there were less than 15,000 customers without power. In one week, 95% of effected customers' power was restored. At the end of Thursday, March 12th, most all customers who could receive power were restored.  All out of town construction crews were released on Friday morning, March 13th.
During this event, NES crews and its contractors replaced nearly 1,000 distribution and transmission poles, over 450 distribution transformers and over 800 streetlights in 10 days.
March 3, 2020 will be a day Nashvillians remember forever – we are thankful to have a team and community who care so much about Music City.
NES has launched a storm restoration website that includes important information regarding power outages, Q&A's, ways to help, recovery assistance, and more.
There's so much uncertainty happening in our world today, but we must take a moment to thank the good people of Nashville for your patience while we worked to restore power after the devastating tornado that hit our city on March 3rd.
The tornado will not defeat us. Nashville will rebuild, and our community will be stronger than ever.
NES is honored to serve the people of Nashville.
Categories:
Tags: