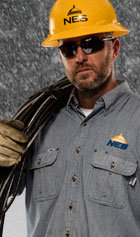 Nashville Electric Service is ready for another round of winter precipitation in Middle Tennessee and is prepared to respond to potential outages. The utility is fully staffed, linemen are on alert to be called in if necessary, and contract crews are available to assist if needed. In the event of widespread outages, NES will be working closely with Metro's Office of Emergency Management to coordinate restoration efforts.
NES is reminding customers of some essential winter weather preparations to make now before any power outages occur.
• Create an online profile through My Account at nespower.com. Once you log in, you can quickly and easily report outages from your computer or mobile device. The sooner NES knows that your power is out, the faster we can work to restore it.
• Stock up on essentials including non-perishable food, blankets, flashlights and fresh batteries, prescription medications, bottled water, pet food and items such as infant formula and diapers.
• Fully charge your cell phone, tablet, laptop, etc. ahead of time. Consider buying a phone charger for your vehicle if you don't already have one. It can be used as a supplementary power source to charge your phone if the power goes out.
• Turn your refrigerator and freezer to their coldest settings before a possible outage to keep food colder for longer and try to keep the doors shut as much as possible. According to the USDA, an unopened refrigerator will keep food cold for four hours after power is lost. A fully-stocked freezer will stay cold for two days and a half-full freezer will keep items frozen for one day.
• If you own a generator, operate it safely. Never run a generator inside a home or garage as they produce potentially deadly carbon-monoxide fumes. Also, do not directly connect the generator to your home's wiring. It can create a "back feed" into utility lines which can injure or kill linemen who are working to restore the power.
To report a power outage, call 615-234-0000, log into My Account at nespower.com or text "NESPWR" from your mobile device. If you see a downed power line across a roadway or equipment that is sparking, call 911.
Categories:
Tags: