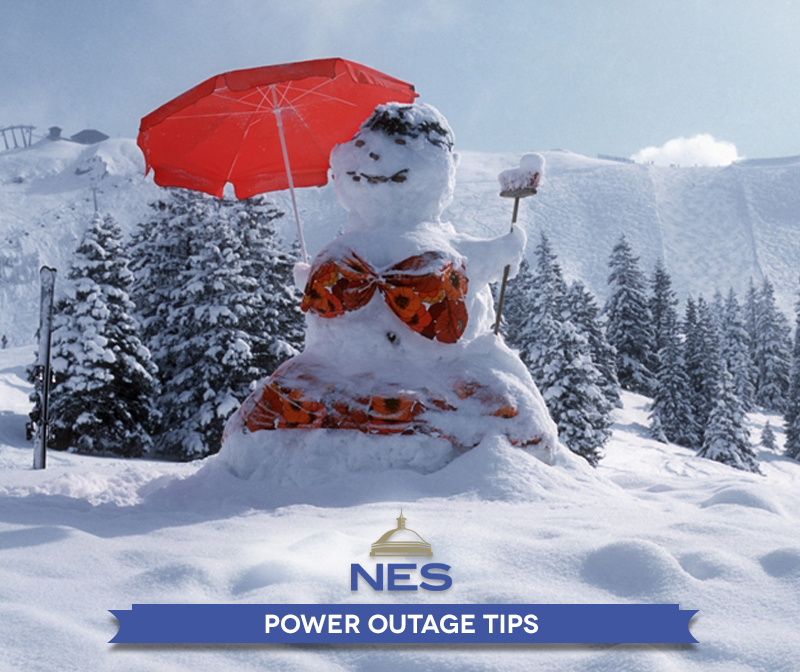 NES crews are ready for an upside down week of weather – with freezing rain and snow to follow Tuesday's spring-like temps. We want to help prepare your home and family for a potential power outage with these important tips.
Create an online profile through My Account at nespower.com. Once you log in, you can quickly and easily report outages from your computer or mobile device. The sooner NES knows that your power is out, the faster we can work to restore it.
Take a quick trip to the grocery and pharmacy in case the power goes out. Stock up on essentials –like non-perishable food, blankets, flashlights and fresh batteries, prescription medications, bottled water, pet food and infant formula and diapers.
Fully charge your electronic devices – such as cell phones, tablets and laptops. Consider purchasing a cell phone charger for your vehicle; it can be used to provide supplementary power to charge your mobile phone if the power goes out.
Turn your refrigerator and freezer to their coldest settings before you lose power and minimize the times you open and close their doors to keep food colder longer.
According to the USDA, food stored in a fully-stocked freezer will stay cold for two days; a half-full freezer will keep items frozen one day. An unopened refrigerator will keep food cold four hours after power is lost. Once your power is restored, determine if the food is safe to eat by checking that the refrigerator is at or below 40 degrees and that the freezer is at or below zero degrees.
If you own a generator, operate it safely. Never run a generator inside a home or garage – they produce potentially deadly carbon-monoxide fumes. Always keep running generators in an open and ventilated area. Also, do not directly connect the generator to your home's wiring. Plug all necessary appliances directly into the generator. When a generator is connected to a home's wiring, it can create a "back feed" into utility lines which can injure or kill anyone who is working to restore the power.
If your home loses power, report your outage by logging into My Account at nespower.com or by calling NES' automated reporting line at 615-234-0000. When calling, you will need the NES account number, meter number or phone number associated with your account in order for the system to recognize your outage.
If you see a downed power line across a roadway or equipment that is sparking, call 911.
With your help, NES can successfully weather another winter storm in Middle Tennessee. We rely on preparation, in large part due to advanced tree trimming and a strong infrastructure, as well as customer cooperation and outage reporting information.
Categories:
Tags: