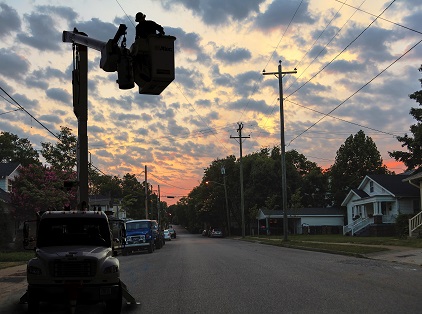 NASHVILLE, Tenn. – Nashville Electric Service (NES) is one of just 44 utilities in the country to achieve top-tier scores on customer engagement and earn the elite title of Customer Champion based on a 2015 residential consumer study released by Cogent Reports™, a division of Market Strategies International.
The 2015 Utility Trusted Brand & Customer Engagement™: Residential Study rates 125 of the nation's largest electric and natural gas companies on their relationship with their customers, including brand trust, operational satisfaction and product experience. The biggest gains for utilities this year center on the emotional connection customers feel with their utility, safety and reliability, and knowledge of programs and services.
"These results prove that the industry is becoming more engaged with its customers on important topics and forming stronger relationships with them," said Chris Oberle, senior vice president at Market Strategies. "Utilities like Nashville Electric Service see value in and are focused on building real connections with customers beyond wires and poles."
NES strengthened its customer engagement by scoring higher on brand trust and safety and reliability. NES is one of 29 public electric utilities in the country to receive the industry's highest honor for safety and reliability from the American Public Power Association. The utility also made significant improvements in customers valuing their community support.
"We just completed a year-long pledge to give back to the Nashville community through 75 acts of service for our 75th anniversary," said Decosta Jenkins, NES President & CEO. "Projects ranged from energy-saving workshops, to playground builds, to various tree plantings, donation drives and fundraisers for charity. I'm proud of our employees who power a growing city through hard work and volunteerism."
Market Strategies International is a market research firm that delivers intelligent qualitative and quantitative research within the consumer & retail, energy, financial services, healthcare, technology and telecommunications industries.
Nashville Electric Service (NES) is one of the 12 largest public electric utilities in the nation, distributing energy to more than 370,000 customers in Middle Tennessee. For more information, visit nespower.com.
Categories:
Tags: