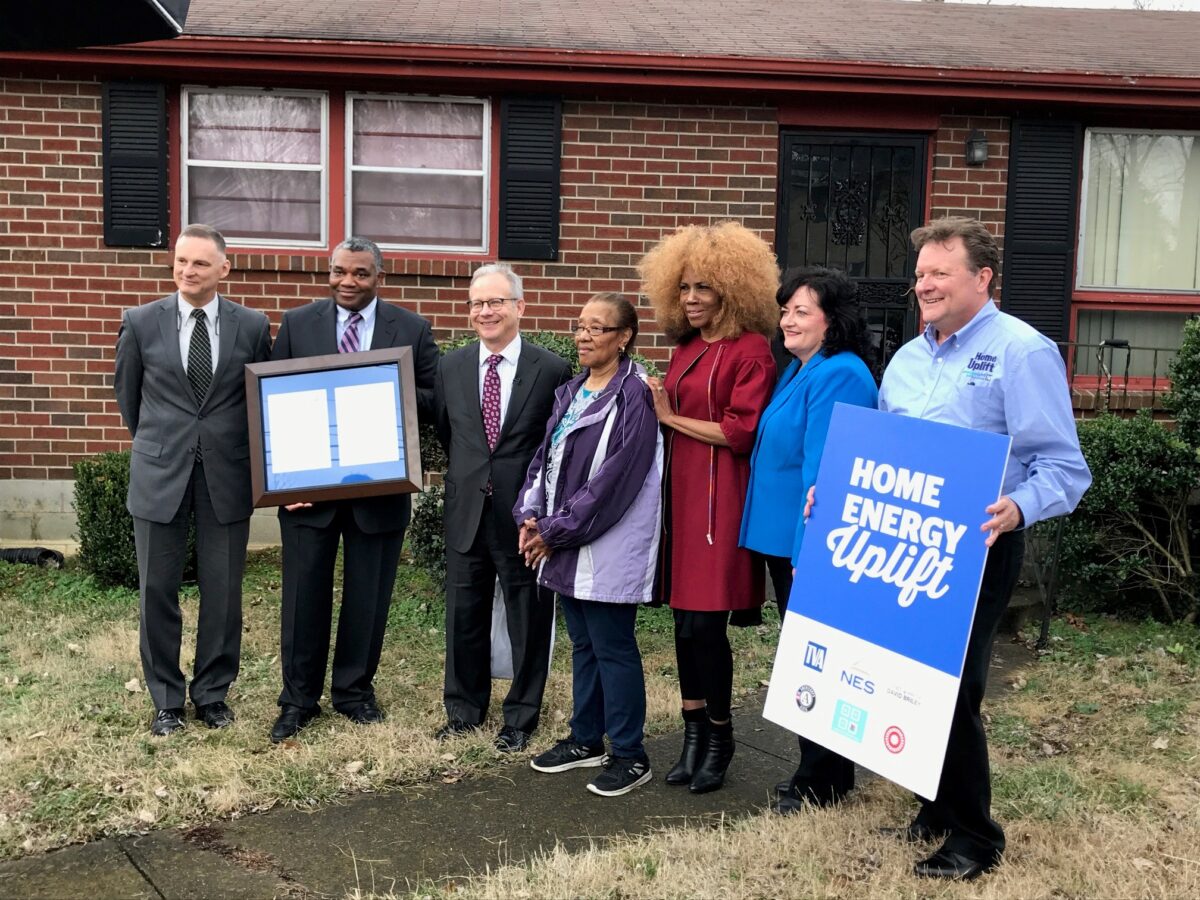 Mayor David Briley, in collaboration with Nashville Electric Service (NES) and the Tennessee Valley Authority (TVA), today announced the completion of the 100th home to receive extensive weatherization upgrades through the NES Home Energy Uplift program (HEU).
Mayor Briley also announced new funding for HEU to weatherize more homes in 2019. Through the Metropolitan Development and Housing Agency (MDHA), the initiative received a grant of $500,000 from the Federal Home Loan Bank (FHLB) of Cincinnati that will be matched with $550,000 from TVA, in addition to donations from Pinnacle Bank and MDHA Housing Trust Corporation.
"I am committed to creating and preserving affordable housing in our city through a variety of different programs," said Mayor Briley. "By making energy bills go down and improving quality of life, HEU allows residents to stay in their homes, an essential for many as housing costs continue to increase. I am grateful for the recently secured new funding that will allow the program to reach more homes and have a greater positive impact on the people and families who need it most."
Since last summer, HEU has provided whole-home energy improvements to 100 limited-income families in Davidson County. Qualified homeowners have received deep energy retrofits and tools to be as efficient as possible to lower utility costs and improve their comfort and quality of life. Each improvement is valued at about $8,000 per home and saves the homeowner about $500 a year on their power bill.
"At NES, we want to do our part to not only provide power to Middle Tennessee but to help our customers become more energy efficient. By weatherizing the homes of our customers who need it the most, we are providing long-term sustainability so they can stay in their homes longer," said Decosta Jenkins, NES president and CEO.
Beverly Truett of North Nashville qualified for the program and became the 100th homeowner to receive the energy upgrades. She welcomed the home improvements and hopes to see a difference on her bill soon. Upgrades included: air sealing, ventilation fan, attic insulation, mini split heat pumps, water heater insulation wrap, carbon monoxide monitor and smoke detectors.
"This is a wonderful opportunity for Nashville homeowners in need," said MDHA Executive Director Jim Harbison. "Because of this program, we will be able to preserve some of Nashville's vital affordable housing stock by providing up to 100 new families the opportunity to make much needed repairs to their homes."
"It is such a privilege to be a partner with NES and the City of Nashville to bring Home Energy Uplift to community members like Ms. Truett," said Cindy Herron, Vice President, EnergyRight Solutions at TVA. "This program gets to the core of TVA's mission to serve the people of the Valley to make life better, so we're always looking for new partners to expand the program and help even more families live more comfortably in their homes."
HEU upgrades may include weatherization, air sealing, high-efficiency heat pumps, high-efficiency air conditioners, duct replacement/repairs, ENERGY STAR windows, building envelope insulation, high-efficiency lighting, crawl space and attic insulation, heat pump water heaters, ENERGY STAR appliances, and/or whole-house ventilation. Qualified Davidson County homeowners may be eligible for this program if they meet income restrictions and if their primary heating and cooling source is electric. Interested Davidson County homeowners can apply online at www.nesuplift.com.
NES HOME ENERGY UPLIFT STATS TO DATE
Homes Completed: 100
Budgeted Amount: $864,000
Average Cost Per Home: $8,391.63
Supporters of HEU also include AmeriCorps VISTA for the Nashville Promise Zone, MDHA and CLEAResult.
Categories:
Tags: