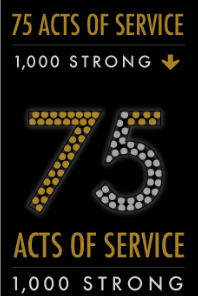 Rather than its name in lights, Nashville Electric Service is working to light up the number "75" as a way to celebrate its 75th anniversary.
NES and its workforce of 1,000 strong made a year-long pledge to give back to the community through 75 acts of service. The utility has a long history of service to Middle Tennessee, and this year is no different.
To document and track our progress, we are lighting a bulb for each act of service we complete. You can find the act tracker on the right sidebar of the homepage or under the 75th Anniversary tab.
The first official project and the first lit bulb out of 75, was a Thanksgiving food drive for families and students at Glenn Enhanced Option Elementary – NES' Pencil Partner school.
Since then, "75" continues to grow brighter with dozens of other community service initiatives, including hosting a Goodwill Donation Drive, planting trees for ReLeafing Day, conducting mock interviews with students at Maplewood High School's Academy of Energy & Power, mentoring children at NES' Pencil Partner school, building a KaBOOM! playground for the Grace M. Eaton Early Learning Center, collecting toys for Vanderbilt Children's Hospital, and riding in the Tour de Nash – Nashville's largest urban bicycle tour.
Help us celebrate the contributions and commitment of our employees to serve their neighbors. The Power of People.
Categories:
Tags: