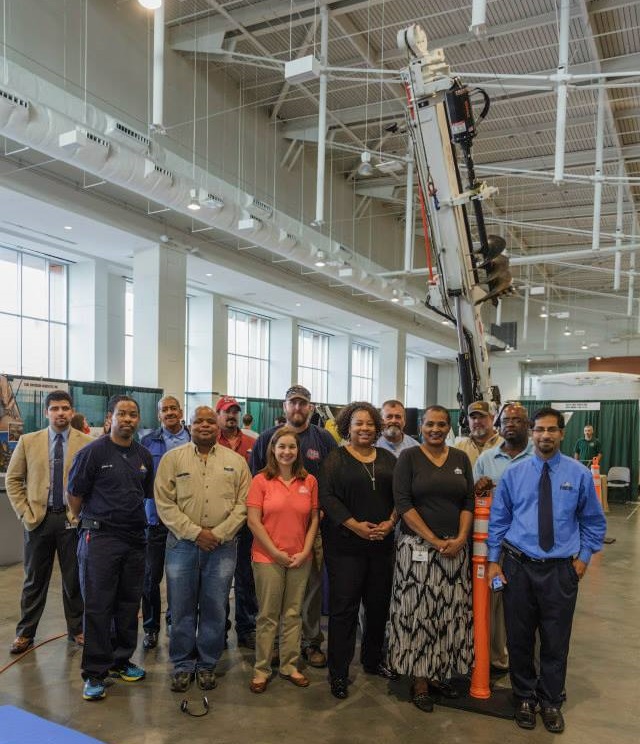 More than 7,000 Davidson County high school freshmen took part in the My Future, My Way Career Exploration Fair at the Music City Center. Students from 20 different schools were given the opportunity to gain firsthand knowledge from more than two hundred potential future employers, including NES. They were able to talk with NES employees about their interests and the skills necessary for a career as a lineman, engineer, electrician or safety manager.
NES employees were prepared with hands-on demonstrations to show students the importance of staying away from power lines and how energy can be controlled with digital and analog circuit boards. Students were even given the opportunity to try on a lineman's safety gloves.
"Throughout the day, all across the exhibit hall, we see thousands of conversations between professionals and young students which may spark an interest or cause a young person to see themselves in new career role," said Dr. Jesse Register, Metro Nashville Public Schools director. "Our hope is that these interactions will help the students understand that achieving in the classroom pays off in the long run."
The sixth annual career fair was hosted by Metro Nashville Public Schools and the Nashville Area Chamber of Commerce.
"Our research shows that Middle Tennessee could be seeing shortages of workers in some business sectors as early as 2016," said Ralph Schulz, president and CEO, Nashville Area Chamber of Commerce. "If our region is to continue along its path of strong growth, we need to reach out to young people and let them know that viable college and career paths are waiting for them."
To see the students interacting with NES employees, check out our Career Fair Facebook album.
Categories:
Tags: