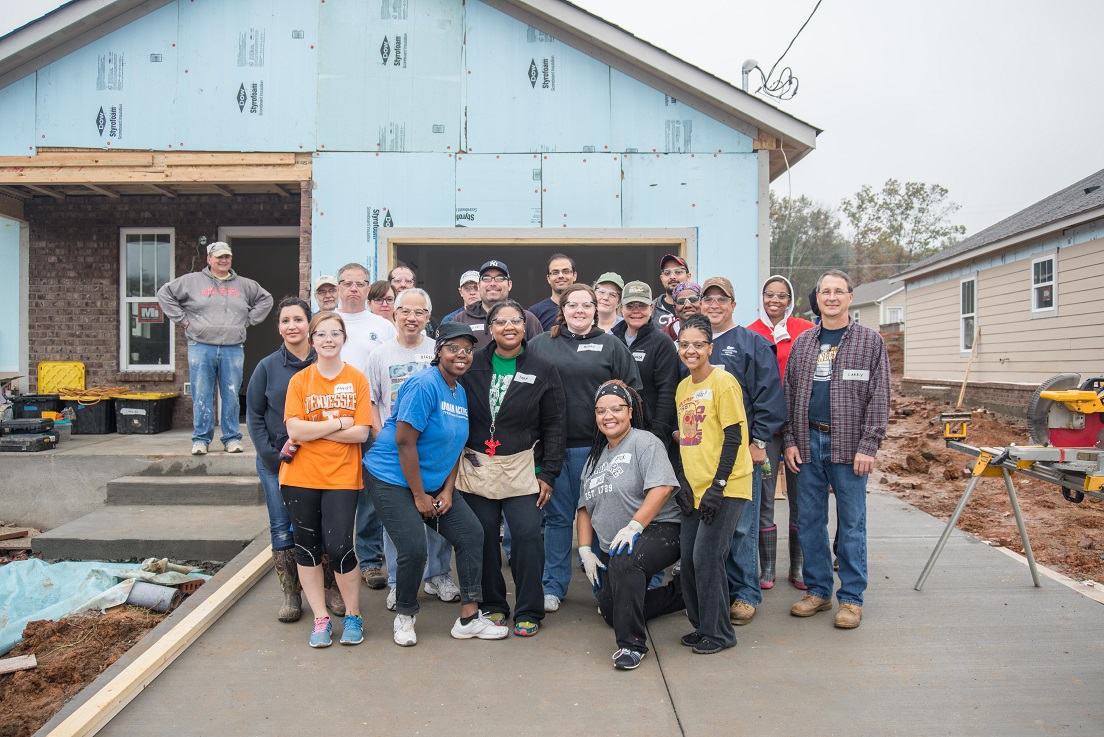 It will be a year of new traditions and warm memories this holiday season for Fetiya Abdela and her children. The family of five is moving into their new Habitat for Humanity home on December 12.
More than 20 Nashville Electric Service (NES) employees dedicated their time to help build this home located in the Hallmark Neighborhood in Antioch. NES' Information Technology Group, along with volunteers from Zycron and CIBER, painted, cleaned and installed cabinets, countertops, trim, doors, locks and knobs.
Fetiya grew up in a large family in Addis Ababa, the capital city of Ethiopia. She remembers helping around the house, cooking and looking after her younger siblings. In 1998, she received a visa to visit her cousin in Nashville.
"I saw there was a better life for me in the U.S.," Fetiya says. "It's up to you to make your life here. You have choices and if you work hard you get opportunities and can be what you want to be. It's not that way back home."
Fetiya received permission to stay in the U.S. She fell in love with a young Ethiopian who was studying dentistry and they married in 2002. They welcomed daughter Hannan, 11, and son Khalid, 9, and moved to Atlanta for her husband's work. The family moved back to Nashville shortly after daughter Sozit, 8, was born, and welcomed daughter Meryam, 4, in 2011. Fetiya says she wanted to work but her husband didn't want her to. They separated in 2011.
"It was the best decision for me and my kids," she explains.
The change has been difficult but Fetiya strives to keep things stable for her children. She works part time as a receptionist in a caregiving agency and she plans to go back to school.
"Right after I became a single mother I decided that I should own a house for my children," Fetiya says. "I got approved for a bank mortgage but the monthly payment would have been very high and I was afraid I might lose the house. That's why Habitat was right for me."
Habitat for Humanity of Greater Nashville closes out the year having built 32 new homes for low-income families in four counties. Families like the Abdelas could not afford a traditional mortgage and would not be able to buy a home without the Habitat homeownership program and community support.
"I really don't have words to explain how happy and thankful I am," Fetiya says. "Thank you so much. We will take good care of the house."
See photos from the NES Habitat Build on Facebook.
Categories:
Tags: