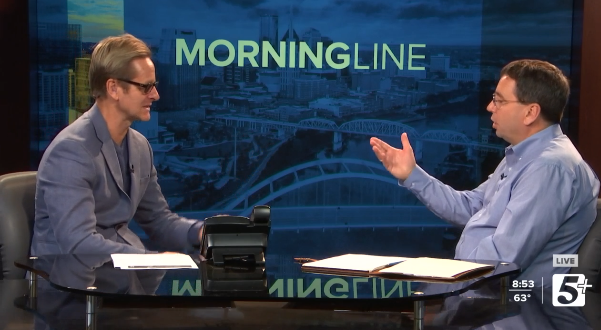 Jack Baxter, Vice President of NES Operations at Nashville Electric Service (NES), recently appeared on News Channel 5's Morning Line with Nick Beres, where he talked about the severe storms we experienced in March 2023 and the work that goes into restoring and keeping the power on for customers. Nick and Jack also discussed NES implementing mandated rolling blackouts via the Tennessee Valley Authority in December, which was first time NES ever had to implement rolling blackouts in its history.
"Every storm is unique and brings its own set of challenges. Every storm is different," says Baxter. "You don't want a complete collapse of the system, where the demand just overwhelms the supply."
Jack also explained how tree trimming is a very important part of preventing power outages. With NES having 5,800 miles of power lines its services, the utility maintains an ongoing tree trimming cycle that circulates throughout the entire service area every 3.5 – 4 years.
"Trees falling on lines are one of the main reasons for power outages, so tree trimming is vital in helping keep the lights on for our customers," says Baxter.
The live taping was also filled with customers calling in and asking different questions about NES' day to day operations, practices for restoring power and what to do during an outage.
To watch the entire interview, click here.
Categories:
Tags: