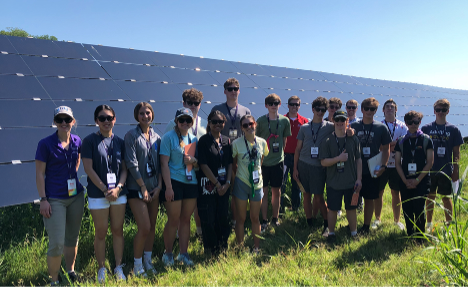 Nashville Electric Service (NES) recently hosted Lipscomb Academy high school students at their Music City Solar Site. Nathan Publow and Daniel Kimbell, NES Energy Services Engineering employees, engaged students in Nashville's sustainability efforts and gave insight on structural and electrical engineering.
Lipscomb high schoolers were able to get an up-close view of the work being done at Music City Solar by touring the site, learning how the solar panels work and how they effectively reduce carbon emissions to promote a cleaner environment for Nashville. Aside from gaining insight into sustainability efforts, Lipscomb Academy students also learned about the roles that structural and electrical engineers play in solar energy regarding energy efficiency, structural design and much more.
Music City Solar serves as Nashville's first community solar array and gives NES customers access to sustainable, maintenance-free solar energy without the typical hassle and costs associated with installing panels on their home or business. A growing number of Nashvillians searching for more ways to live sustainably inspired what once was a landfill off I-65 to become the site of Nashville's community solar park, which now offers 17,020 panels of clean and efficient energy.
For more information on Music City Solar, click here.
Categories:
Tags: