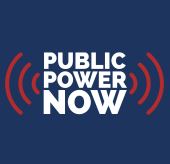 Teresa Broyles-Aplin, CEO and President of Nashville Electric Service (NES) was recently featured on the American Public Power Association's "Public Power Podcast" where she discussed the future of the utility under her leadership.
One of Broyles-Aplin's main goals is making NES more customer centric through new technologies that help streamline customer interactions, providing them with multiple ways to handle business with NES. In addition to enhancing the customer experience, Broyles-Aplin also stated that she wants to grow the employee experience by creating more pipelines for promotions in the workplace by providing resources for employees to enhance their skillsets.
Broyles-Aplin also wants to make the utility's renewable and sustainable offerings more innovative while introducing projects and initiatives that will ultimately reduce the utility's carbon footprint.
"We have some creative things that we have in place to move forward on sustainable initiatives that make sense for our customers," says Broyles-Aplin, "I'm passionate about this and have made these items priorities in our budget."
When asked about the impact of supply chain issues on the utility, Broyles-Aplin explained that while those issues have affected NES, the utility is adapting to those challenges through the way it does business. For example, NES is looking at various types of pole applications and prioritizing the installation of permanent transformers for service restoration and requests.
These changes are important given the growth that Music City is experiencing on a daily basis. When the Music City Center was brought to Nashville, NES built a substation to accommodate the power load that would be necessary to provide electricity to the structure.
"As a utility, we have to build to our anticipated max load," says Broyles-Aplin, "To manage that, thankfully we already have processes in place. We created a 20-year infrastructure plan that helps us expedite certain projects to help keep up with growth."
As well as discussing the need to meet the city's growth, Broyles-Aplin also mentioned programs like Music City Solar and Home Uplift, which helps customers afford sustainable upgrades and retrofits for their homes, which ultimately lowers their monthly bills. Music City Solar is Nashville's first community solar park that has generated more than 10,000 megawatt hours and leased more than 31,000 solar panels to customers. Through the Home Uplift Program, NES and TVA provides energy efficient renovations and upgrades at no cost to the homeowner. Approved homeowners who apply could qualify to receive an average of $10,000 in home improvements, free of charge.
To listen to the full episode featuring Broyles-Aplin, click here.
Categories:
Tags: