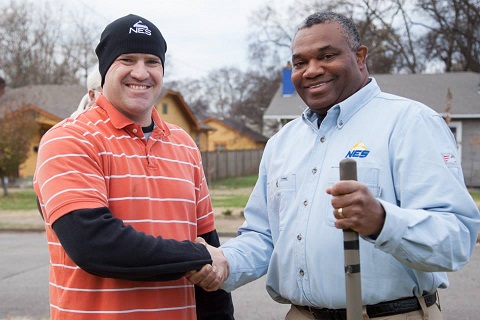 East Nashville looks a little greener after volunteers planted more than 100 trees in the Cleveland and McFerrin Park neighborhoods for ReLeafing Day. NES President & CEO, Decosta Jenkins, rolled up his sleeves and helped out as well.
NES has been a proud supporter of this worthwhile initiative since it began 12 years ago. The effort, led by the Nashville Tree Foundation, provided elm, maple, oak, sweet gum and tulip poplar trees to residents in the area.
Check out photos from this year's ReLeafing Day on our Facebook Album.
ReLeafing Day is held every year on the Saturday before Thanksgiving. In partnership with NES, the Tree Foundation has planted hundreds of power line-friendly trees since the program began in 2002. These trees can be planted safely near power lines without worrying about trimming in the future.
ReLeafing Day evolved out of the Tree Foundation's highly successful ReLeaf Nashville project in which 6,757 shade trees were planted from 1998 to 2001 to replace some of the 20,000 trees that were destroyed by the '98 tornado.
Categories:
Tags: