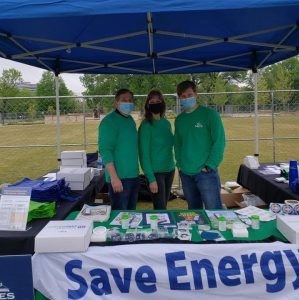 Nashville Electric Service (NES) celebrated Earth Day this year by supporting and attending the Nashville Earth Day Festival at Centennial Park.
The event was held on Saturday, April 24, and provided an opportunity to bring the Nashville community together (in a socially distanced format) to celebrate our planet, inspire positive environmental change, and support sustainable small businesses and nonprofits. As an event sponsor, several NES employees attended the event and distributed handouts on ways to save energy, along with NES goodie bags and information on how to apply for the Home Uplift Program.
NES was just one of many local organizations that supported the event to raise awareness and encourage more environmentally focused initiatives. The free event featured live music, food vendors, children's activities, local businesses and more. Attendees could also take home one of the 500 trees the Nashville Tree Foundation gave away.
For more education on sustainable practices or how to take action, click here.
Categories:
Tags: