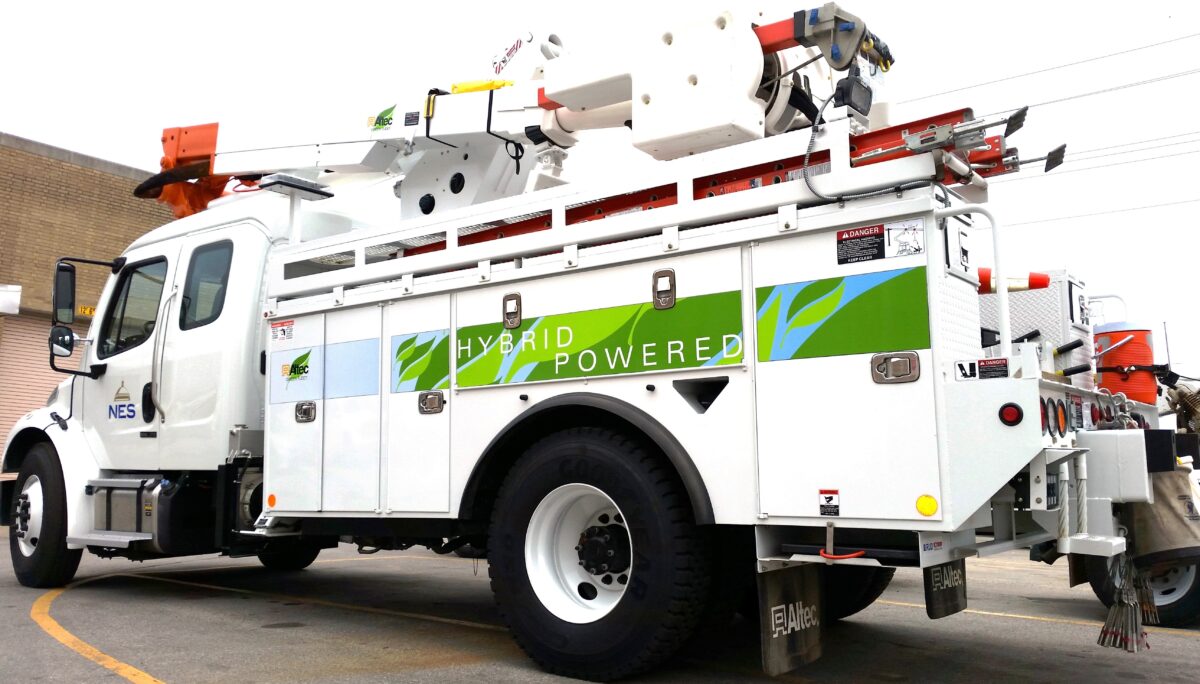 Nashville Electric Service (NES) recently rolled out its first hybrid electric bucket truck, which will be used for performing maintenance and making outage repairs across Middle Tennessee.
The hybrid bucket is a lot quieter than other trucks in the NES fleet and is much cleaner to operate with significantly less emissions. It offers engine-off operation for over three hours, has a range of up to 300 miles between refills and can charge within six hours of downtime.
"With a conventional bucket truck, the engine must be running at all times to power the aerial boom," said Mark Booker, NES Fleet Supervisor. "With the new hybrid truck, the engine no longer needs to idle since the boom is raised with an electric hydraulic system."
NES has also purchased a plug-in hybrid electric vehicle (PHEV) light-duty pick-up truck, which is expected to arrive by June 2015. The pick-up offers up to 40 miles using all electric and has a range of 400 miles before needing a refill.
"Along with our core mission to provide safe and reliable electric service to customers, NES has a strong commitment to operate efficiently, improve our technology and seek out innovations that keep conservation a priority," said Teresa Broyles-Aplin, NES Executive Vice President & Chief Financial Officer. "We estimate a fuel savings of approximately 30 to 50 percent compared to traditional diesel or gasoline engines."
As part of NES' commitment to reduce its operational footprint, NES is participating in a plug-in hybrid evaluation program sponsored by the Electric Power Research Institute. Data from both vehicles will be used to help develop a PHEV powertrain system that can be used for utility service vehicles nationwide.
For more than a decade, NES has actively incorporated more efficient and sustainable transportation technologies into its vehicle fleet. NES has 133 light-duty flex fuel vehicles and trucks, used by field employees, which are capable of running on E85 ethanol and unleaded fuels. E85 is a corn-based brand of fuel that uses renewable sources grown right here in the United States. It requires less petroleum and emits fewer greenhouse gases than standard gasoline, making it better for the environment. NES was one of the first companies in Middle Tennessee to have E85 fuel tank storage on-site for company drivers to fill up before heading out in the field. And, in June 2011, NES purchased three new Nissan Leaf electric cars for company use.
NES is working hard to do its part in helping conserve resources and improve air quality. With more than 4.5 million miles logged by NES vehicles each year, the investment in innovative and cost-efficient technology will continue to benefit Middle Tennessee down the road.
Categories:
Tags: