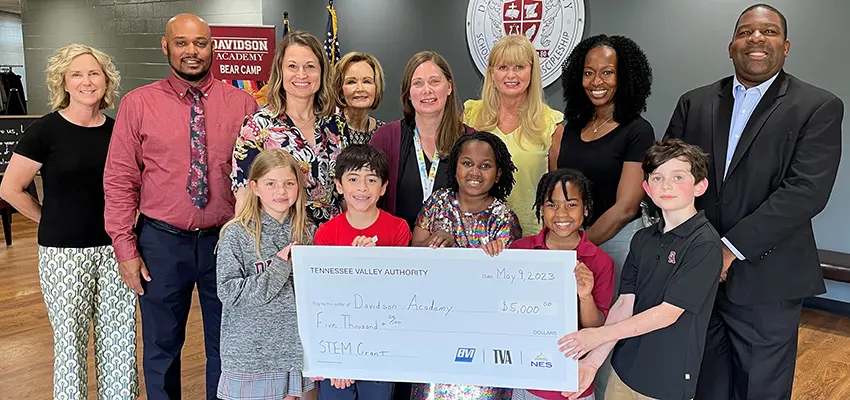 Several schools in the Metro Nashville Public Schools (MNPS) district have been awarded STEM grants by the Tennessee Valley Authority (TVA). The grants will aid in developing science, technology, engineering, and math education projects to help spark student interest in future careers in STEM-related fields.
Schools who are awarded grants must receive their power from a local power company served by TVA. Teachers across TVA's seven-state region applied for funding of up to $5,000 for projects, and 238 applications were selected. Croft Design Center Middle School, Davidson Academy, Donelson Christian Academy, Jack Anderson Elementary School, John Overton High School and Hendersonville High School were among those selected, and are all served by Nashville Electric Service (NES).
Croft Design Center Middle School will use the grant to purchase a Cricut smart cutting machine. Students will make T-Shirts, mugs, and hats using the Cricut and perform quarterly quality assurance reviews of the creations. Davidson Academy is using the grant to provide Pre-K through 5th grade students the opportunity to plan, plant, and maintain cool-season lettuce beds in the existing school garden. This will provide students an opportunity to learn about plant and soil science, technology and tools needed to successfully grow edibles, the construction and engineering of protective structures, and the math to make reliable plans, measurements, and predictions.
Jack Anderson Elementary School is using the funds to build a sensory wall, while John Overton High School plans to use the grant to purchase supplies for students to learn about rocket design. Students will use snap circuits to model rocket circuit design and then design, build, and test water rockets to help understand the engineering design process, the concept of flight, and trigonometry. Hendersonville High School will use the grant to help fund a new floral design class. Students will learn the value and creativity floral design brings, from elements of design, to hands on experience with different arrangements of flowers. Through this class, students will have the opportunity to grow and produce their own flowers and develop their potential for a career in agriculture.
All grants are made possible in partnership with Bicentennial Volunteers, Inc., a TVA retiree organization. Since 2018, TVA and BVI have awarded nearly $5 million in STEM grants to support local education.
A full list of grant recipients and information on how to apply for a future STEM grant can be found here.