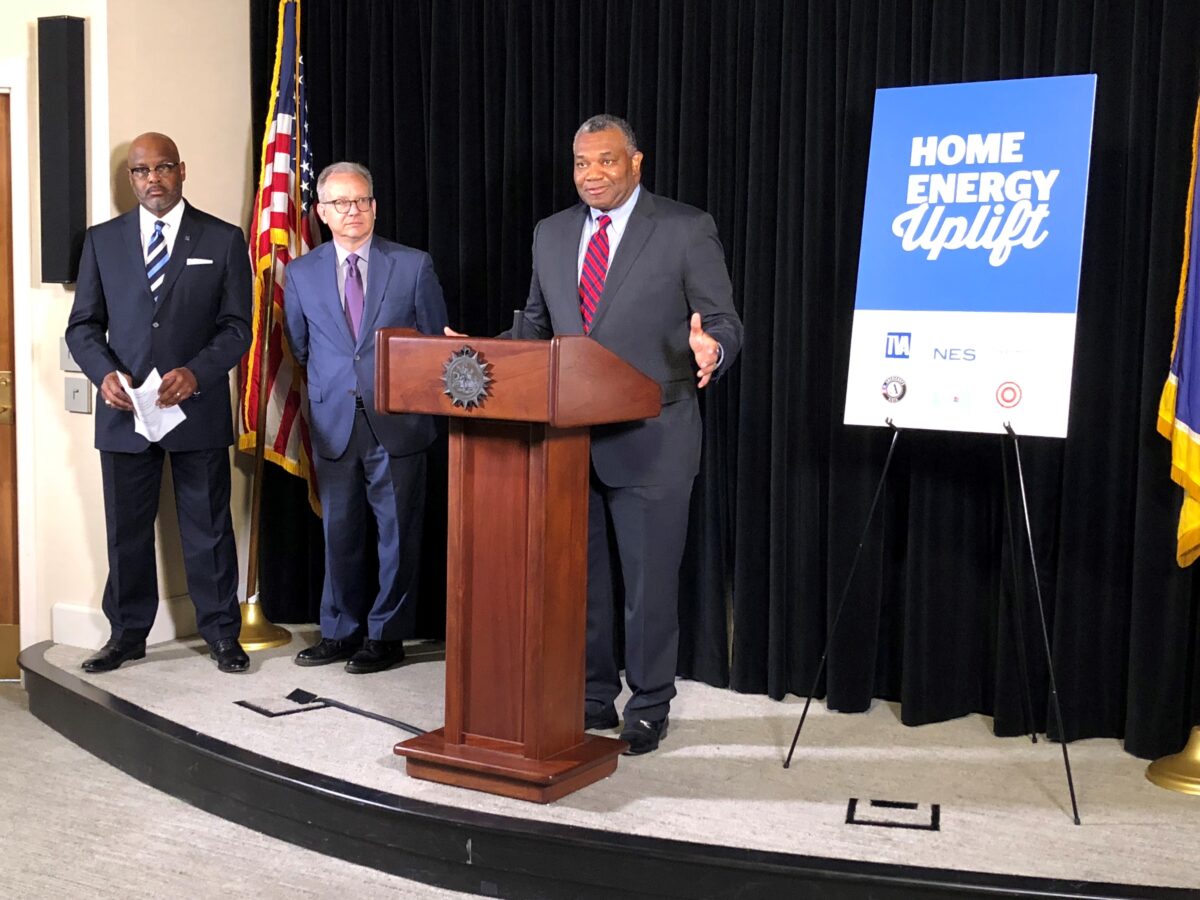 NASHVILLE, Tenn. ― The Office of Mayor David Briley, in collaboration with Nashville Electric Service (NES) and the Tennessee Valley Authority, announced today the launch of a new home weatherization program called NES Home Energy Uplift.
NES Home Energy Uplift will provide whole home energy improvements to about 125 limited income families who own homes in Davidson County. Qualified homeowners will receive deep energy retrofits and tools to be as efficient as possible to lower utility costs and improve their comfort and quality of life. Each improvement is expected to be valued at about $8,000 per home. TVA is investing $1 million in support of the program, in collaboration with the support of NES and the Mayor's Office.
"This program offers our low-income residents the opportunity to make their homes more comfortable and weather-resistant and save money on utility bills. I am grateful to our partners for making this opportunity a reality for our residents," said Mayor Briley.
"At NES, our mission is to provide safe, reliable power and affordable power. With the help of TVA and the city of Nashville, we will be able to provide more energy efficiency solutions to homeowners who need it the most," said Decosta Jenkins, NES President and CEO.
"NES Home Energy Uplift represents a great opportunity for TVA to partner with NES and community organizations to help limited income residents save money on their utility bills while making their homes healthier and more comfortable," said Cindy Herron, vice president of TVA EnergyRight Solutions.
Energy upgrades may include weatherization, air sealing, high-efficiency heat pumps, high-efficiency air conditioners, duct replacement/repairs, ENERGY STAR windows, building envelope insulation, high-efficiency lighting, crawl space and attic insulation, heat pump water heaters, ENERGY STAR appliances, and/or whole-house ventilation.
Qualified Davidson County homeowners may be eligible for this program if they meet income restrictions and if their primary heating and cooling source is electric. Homeowners will be notified by postcard if they are eligible for the program.
NES will be offering community events and education workshops for more information on Home Energy Uplift and additional energy efficiency solutions. For more information, please visit www.NESuplift.com.
Along with home weatherization, participants will be asked to be part of a study to determine if increased energy efficiency also creates additional benefits such as improved comfort and health for residents of the home.
TVA has been working with a group of local power companies, state and local governments, non-profit agencies, energy efficiency advocates, and the Tennessee Valley Public Power Association to seek solutions to help limited income families improve the energy efficiency of their homes. The NES Home Energy Uplift program is part of a series of initiatives TVA is undertaking in partnership with local power companies to develop a sustainable approach that may be expanded across the Tennessee Valley.
Supporters of NES Home Energy Uplift include: Office of Mayor David Briley, NES, TVA, AmeriCorps VISTA for the Nashville Promise Zone, MDHA and CLEAResult.
Categories:
Tags: