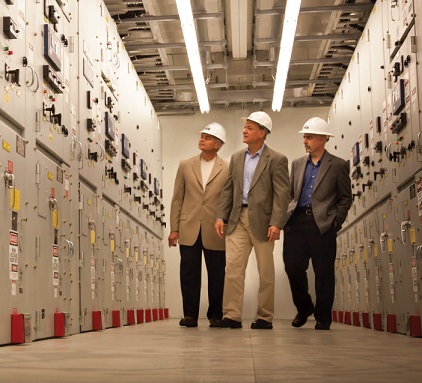 As a utility critical to metropolitan infrastructure, NES is focused on providing safe and reliable power to Middle Tennessee while also staying on the cutting edge of technology.
"Modernization is not only about the latest piece of equipment, it's also about maximizing what's already in place," explained Wes Allen, vice president of engineering at NES.
"Power systems are complex in the sense that all the parts must work together all of the time," Allen continued. "NES is essentially the main conduit that takes energy generated by TVA and delivers it to our customers. Our systems and how they perform are entirely dependent on the energy we distribute. And the energy required is entirely dependent on population growth and usage demands."
As Music City continues to boom, NES is staying ahead of the city's growth with careful planning and scheduled infrastructure improvements. Allen leads the engineering team charged with evaluating assets as they exist while also projecting future growth on the system to position NES to handle the added demand for electricity.
The engineering research and long-range planning in 2014 produced four specific innovations with a focus on reliability, capacity and maintenance.
The first major change involved the removal of above-ground power lines, poles and equipment in the SoBro area. A joint effort between NES and Metro allowed for the construction of a massive underground tunnel, near the Music City Center, that houses approximately 98,000 feet of cable.
The second innovation was moving away from lead insulated cables on the NES system to the more reliable rubber insulated cables. Rubber cabling is a better and safer electrical conductor and requires less technical expertise to install and maintain. The switch allowed for improved reliability and better asset management.
The third significant engineering advancement involved upgrading NES substations while reducing their footprint. Utilizing a gas-insulated switch gear instead of open air, the Peabody Substation uses a dramatically smaller piece of land than any other NES substation and provides for more reliable power to about one-third of the downtown business district.
Finally, NES continuously looks for opportunities to modernize obsolete mechanical operations. The engineering team routinely changes out manual pull switches to digital touch screens across its substations. Additionally, NES is in the process of transitioning from analog to digital meters to improve service and power quality for customers and to better manage the energy load on its system.
Categories:
Tags: