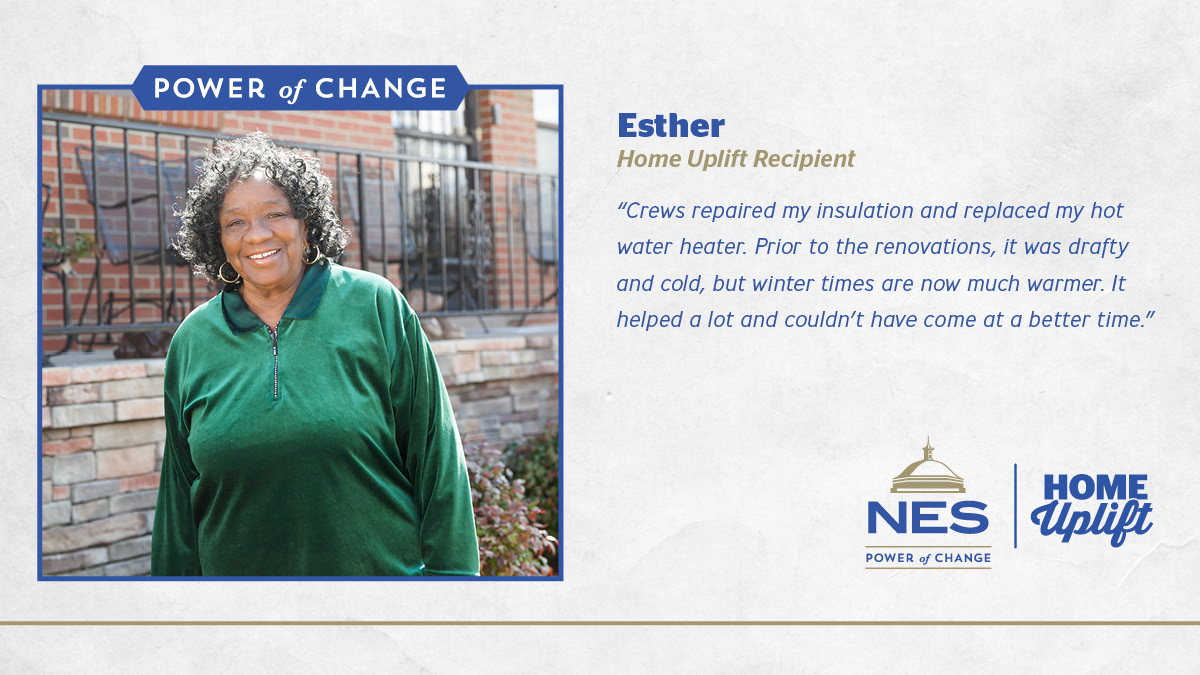 A quaint, ranch-style home sits on a hill on Rowan Drive, a floral-lined path leading up to its marble front steps. Inside, the living room is outfitted with peach walls and antique furnishings. Mrs. Esther is seated in one of the chairs, dressed in a velour green two-piece set with diamonds lining the zipper. She has just returned from the doctor and is settling in to discuss the upgrades she received through the Home Uplift program, allowing her to remain in the East Nashville residence she's lived in for most of her life.
Are you from Nashville?
No, I'm originally from Alabama. I came to Nashville in 1963 after my high school graduation. My original intentions were to attend college, but I began working in hospitals and eventually became a medical assistant. I have two sisters who live in Nashville, too. They also work in the medical industry. Eventually, I left the medical industry and got into the daycare business. I ran my daycare for 38 years.
Amazing. How long have you lived in this house?
I moved into this home on April 8, 1967, and there were hardly any other homes in the area. It was very undeveloped.
So, this is an older home. What renovations have you had done?
I initially had renovations done when I began my daycare business in 1973. You see, the entire backside of my home was a daycare. I literally lived where I worked. I had my daycare built onto the back of the home, which includes two rooms, a kitchenette and a bath. However, NES came and conducted renovations about 3 years ago.
And those renovations were made possible through the Home Uplift program, correct?
Yes. I found out about the Home Uplift program from Sonya, who I've known since she was a little girl. She lives in the home her parents owned; it's the home she grew up in. When she had her renovations completed, there was a big block party hosted right outside. I was immediately sold on the program and applied right afterwards.
Once you were approved for renovations, what changes were made?
Crews repaired my insulation and replaced my hot water heater. They reinsulated both attics, the one inside my home and the daycare I had built on, which is now an apartment. Prior to the renovations, it was drafty and cold, but winter times are now much warmer. It helped a lot and couldn't have come at a better time. My light bill has gone down and my gas bill has decreased as well.
Wow, that is life-changing. Why do you think the Home Uplift program is so important?
It is a nice program. I'm the only one who has ever lived in this house, but I have grandchildren and I'm now a great grandmother. This is a legacy home, and I have plans on passing my home down to younger generations once I'm gone. It can help a lot of people. I told my neighbor about it and she asked me to help her apply, and that's exactly what I'm going to do.
Categories:
Tags: