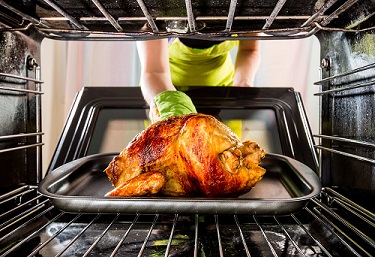 Preparing a Thanksgiving feast is no easy task, but NES offers some simple tips to cut your energy costs in the kitchen this holiday season.
KEEP THE OVEN DOOR CLOSED
It's hard to resist cracking the oven to check the status of a roasting bird that's filling your kitchen with such wonderful aromas. Remember that doing so causes the oven to drop its temperature, meaning it will require even more energy to stay constant. Instead, turn on the oven light and monitor items through the window.
STUFF THE OVEN
Pies, potatoes, vegetables and turkey all need to be roasted or baked. Whenever possible, put several dishes in the oven at once to cut down on the amount of time the oven stays on throughout the day.
FIRE UP THE MICROWAVE
Many side dishes can be cooked in a microwave instead of the oven. Microwaves use just a fraction of the electricity that ovens do, and, of course, can dramatically reduce cooking time. A slow cooker can help ease the oven's burden as well.
CHOOSE THE PROPER BURNER
To use your cook-top range as efficiently as possible, choose pots and pans that are relatively the same size as the burner you're cooking on. That way you will effectively heat up food without wasting energy. Large amounts of energy are lost when a small pot sits on a large burner.
For more ways to save, visit NESpower.com.
Categories:
Tags: