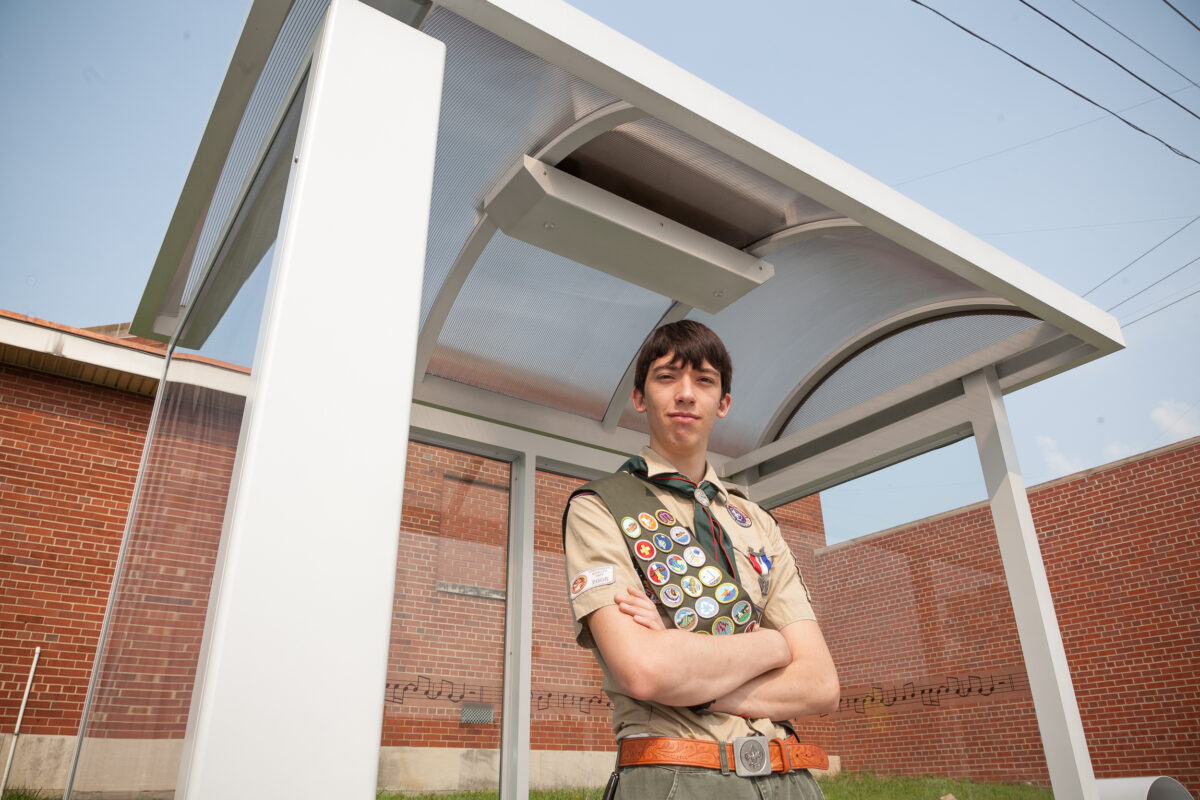 Every day, hundreds of students attending Martin Luther King Magnet catch the city bus to get to school. Without an enclosed shelter at the bus stop across from campus, students were often left waiting out in the cold wind, heavy rain or even snow. One of these students was Trey Williams. Determined to make a positive change in the world, Trey set his sights on building a bus shelter for his fellow students as part of earning the rank of Eagle Scout —Boy Scouting's highest advancement. He needed proper approvals from the Metro Transit Authority (MTA) and the Middle Tennessee Council of the Boy Scouts of America. Also on his hefty to-do list was drafting a shelter plan, completing the proper permits, fundraising and securing volunteers to help build the structure. After much work and many phone calls, Trey learned that the bus stop was actually located on NES property. When NES engineers heard about Trey's request for a shelter and saw the rough design concept, they were eager to offer support and assistance.
"Many people submit suggestions on how to use NES property," said Sean Sampson, NES senior associate engineer. "But we have to consider whether or not it's going to help the community. We like to make a positive impact any time we get the opportunity to do so." "Trey's suggestion stood out for multiple reasons. He had already contacted MTA by the time he reached out to me, so I knew he was serious. It was obvious to us that he wanted to help as many people as possible."
Sean also worked directly with MTA to keep the process moving along. It was important to Sean and NES that Trey complete this project in time to receive his Eagle rank.
"Trey really should be applauded for his efforts because he saw a need and worked hard to see it become a reality," Sean said. "Even though he didn't really have a lot of construction experience,
he wanted to build part of the shelter himself! We had to explain the steps and expertise involved, but his drive was very impressive."
Trey no longer rides the bus to MLK Magnet High School. Having recently graduated, he has traveled to Denver to join City Year, an education-focused organization dedicated to helping students and schools succeed. But, he's happy knowing other students still benefit from his simple act of community service. It should come as no surprise that after completing the bus shelter, Trey earned his Eagle Scout rank.
"It is a huge achievement and honor," Trey said. "It represents years of work in the scouting program, and I'm really proud of it."
Categories:
Tags: