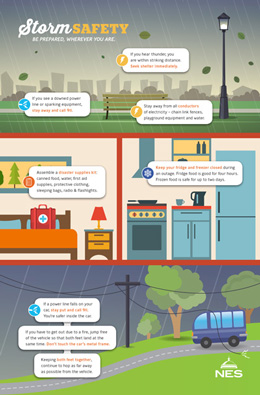 Most people don't think about disasters until they strike and they're faced with figuring out what to do in the midst of a storm.
At Nashville Electric Service, we routinely prepare for and practice responding to emergencies so that we're ready to roll no matter what conditions exist.
We encourage you to do the same with your family, friends or roommates. Know the hazards in your area, create a plan, and assemble an emergency supply kit, including batteries, flashlights, a portable radio, battery-powered clock, nonperishable food, bottled water and any necessary medications.
According to a recent survey by the Federal Emergency Management Agency, nearly 60 percent of all Americans have not practiced how to respond to a disaster in the past year. National PrepareAthon! Day on April 30 is working to change that.
You can participate by signing up for local text alerts, downloading a weather app to your smart phone and collecting important documents in a safe place.
And, be sure to check out our tip sheet for important storm safety advice to Be Prepared, Wherever You Are.
For more information on America's PrepareAthon!, visit ready.gov/prepare.
Categories:
Tags: