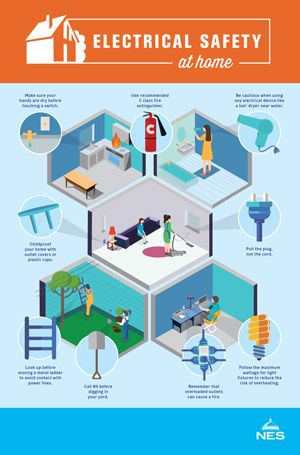 It's National Electrical Safety Month and we're sharing tips to prevent shock and electrocution around the house. Even routine tasks can easily lead to unsafe conditions if you're not careful.
Make sure you and your home are protected with Ground Fault Circuit Interrupters (GFCIs), especially in the kitchen, bathroom and outdoor spaces.
If you have young children, don't forget to properly childproof your home with outlet covers and know where they should be installed.
Finally, overloaded electrical circuits are a major cause of house fires. Lower your risk by not overloading outlets.
Check out our Electrical Safety at Home infographic to learn more.
Your safety is our number one priority. Electricity is an important part of our lives and keeping these tips top of mind is the easiest way to avoid accidents.
Categories:
Tags: