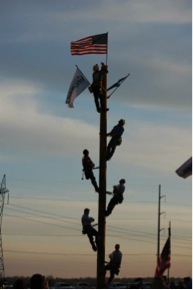 Over the past few weeks, residents across multiple states braced for impact as hurricanes Harvey and Irma made landfall. But the effects of the storms lingered long after they had passed, leaving thousands of people in the dark and in sweltering heat as they waited for power to be restored.
In these circumstances, local utility companies often don't have large enough crews to keep up with demand, so they issue a call for help through a mutual aid contract with other entities. As one of these entities, NES was ready to answer the call, and linemen from NES and our linework contractor stepped in to lend a helping hand.
Following the devastation from Hurricane Harvey, we released about 30 men from our linework contractor, Davis H. Elliott, so that they could assist in the Houston area where the needs were the greatest. We are always eager to oblige when we know people need help. The crew spent about two weeks in Texas, with some of the men returning to Nashville and others going directly to Florida to help after Irma.
As Irma moved north from Florida and Georgia, delivering strong winds and rain to the Tennessee Valley, our neighbors in Chattanooga needed support. NES was contacted early on Tuesday, September 12th after the city suffered a number of damages and needed additional crews. We sent 12 bucket trucks and 35 men who worked through the day on September 13. By the end of the night, most of Chattanooga's power issues had been restored, allowing the men to return to Nashville by the 14th. NES was one of 11 municipal and county electric companies in Tennessee that sent more than 121 lineworkers to affected areas after the storm.
NES linemen who travel out of town for recovery efforts do so on a voluntary basis, leaving their homes and families to assist those in need. Calls to NES for extra manpower typically come once every two years or so. Once on the ground, they rebuild, restore and reinstall broken poles, and replace wires that have fallen. After strong storms, fallen trees and vegetation are a main source of destruction.
Fortunately for us, we are typically providing help rather than receiving it, as we have extensive resources through our contractors. The Nashville flood of 2010 was the only event in recent history that required that we utilize outside help.
Thank you to all of our brave linemen for providing aid to our neighbors when they need it most.
Categories:
Tags: